Cooking and preparing food is a major life skill for independence.
Learning how to use utensils efficiently, keep an eye on timings, and assemble meals hygienically are essential elements of creating a delicious meal.
We have been working hard to practice these skills at space, and expand our knowledge and understanding of what it takes to make a balanced meal for ourselves and others!
At our Cross street site, 'Lunch club' takes place on Tuesday. This opportunity gives us the chance to plan and prepare a meals for ourselves and our peers, and is a fantastic chance for us to hone in our culinary skills. On the menu this week was loaded jacket potato skins with spaghetti hoops; a group favorite!


We started off by washing our hands, and putting on our apron! After putting the potatoes in the microwave to soften, we cooked off the bacon in the air-fryer, and then started to mash the potato!
We grated some cheese (whilst watching not to grate our fingers at the same time!) and added cream cheese and spices to the mashy mixture! Gordon Ramsey, eat your heart out!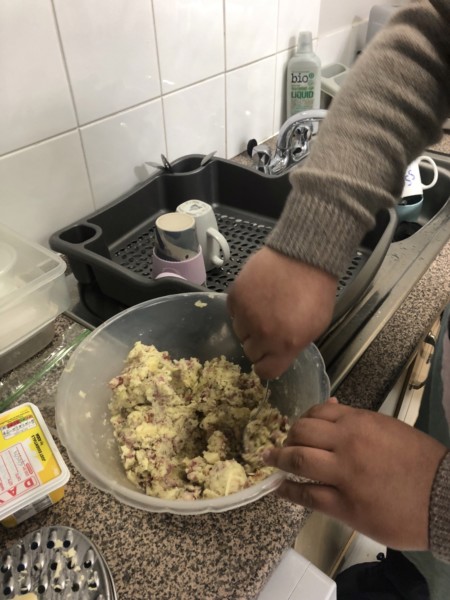 We really carefully spooned the mixture back into the potato skins, and set them into the air-fryer to cook! This was a big test of hand-eye co-ordination, which we managed to ace!


We heated up the spaghetti hoops, and plated everything up for all of our friends; ensuring that the table was set, and everyone had a place-mat!

Overall, (after a thorough taste test) we give this recipe a thumbs up! This activity continues to be a great success, and we cant wait to practice cooking with more recipes next week!