With another scorcher of a week in the bag, we have been keeping busy in the buildings more than usual! With that being said, we have been getting creative and strategic with what we are making, including some fantastic artwork and some very healthy lunches!
Colour and texture are both important principals of any artwork, and we have been able to incorporate them into our newest creation! By thinking on our feet and using cookie cutters and air dry clay to make the lettering- and focal point of our masterpiece (and chose colours to paint around!)- as well as up-cycling bottle tops to be stuck to create a mosaic deign- we were able to start to create a decorative sign to be hung around the building once finished! We practiced our co-ordination and understanding of communication by taking on-board instructions on how to get started! It has been lovely to get started making something that we will use to personalise our building space, and we look forward to adding to it and finishing it in the coming weeks!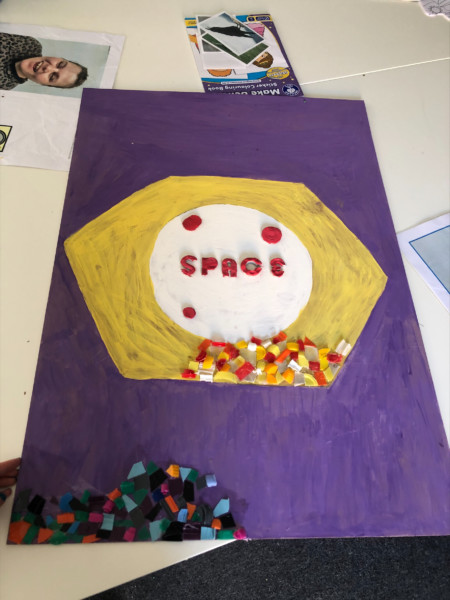 (Image descriptions: We have loved getting creative in cutting out the lettering and painting our mosaic masterpiece!)
With the heat in mind, we have also been taking extra care of our health- which allows us to enjoy our time at space to the best of our ability! Good health starts from the inside, which is why we are doing our best to be conscious of the quality of food that we are eating, and what we are putting into our bodies to ensure that our diets are packed with nutrients! We have found that warm weather can affect our appetite sometimes, making us want a lighter meal- so what better time to adjust our snacks than a lunchtime toastie- filled with roasted veg and a side of coleslaw and salad!!
We worked on our independent skills to prepare our lunch, including chopping and seasoning our veg, before putting it in the oven to roast it, before we paired it with our toasties! It was a smash hit, and we very much look forward to expanding our diets further and having fun with new nutrient packed recipes!
(Food image descriptions: We are working hard to create our perfect healthy lunches! having sourced the veg from the local shop, we are chopping and seasoning it to pair it with our lunch!)
What is your favourite healthy dish to make? we would love to hear your recipe suggestions in the comments below!